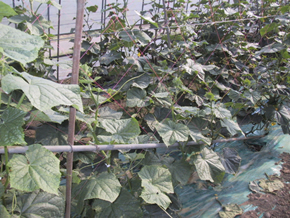 June 12, Cucumbers in greenhouse
Due to root nodules, the new sprout could not grow.
To create roots overcoming root nodules, MR-X was applied. The result was successful!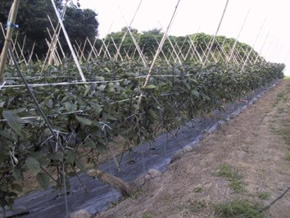 August 29, Iwashiro Cho in Nihonmatsu City, egg plants
This year, the rainy season ended late. The insufficient sunlight might prevent the growth.
With MR-X, however, the leaves are active and more flower buds are created.
I am looking forward to further growth from now on.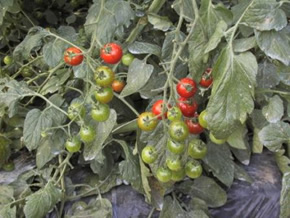 August 29, Iwashiro Cho in Nihonmatsu City, mini tomato
No price drop. It is natural because the supply is small. It is most desirable to have usual yield in a year like this!
I see no problem because the roots are sturdy.
August 23, Iwashiro Cho in Nihonmatsu City, Tomato
This year I was keenly aware of the importance of root development.
The plants subject to harvest before sufficient root development became no longer productive in the early stage.
It is always true that the important point is to develop plants providing crops for a long time! (Comment by a farmer)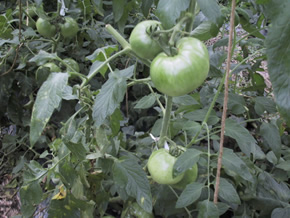 August 23, Iwashiro Cho in Nihonmatsu City, Tomato
The price remains high and the yield is stable. We can have such a good year.
This can happen only when you develop the plants carefully.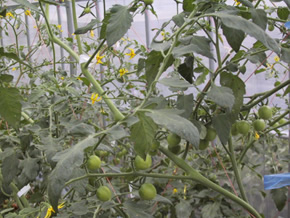 August 23
Since I started to use MR-X, the leaves have become thick and hard and their cores are clearly harder than before.
You cannot achieve such an effect easily.
August 23
Because trees become energetic, they yield many large crops.
S.2S hardly occurs.
Coloring comes late and fertilizers are absorbed effectively.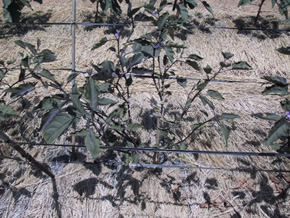 July 3
To cure egg plants from Verticillium dahliae, MR-X200 was sprayed to the leaves and supplied through irrigation.
Normally, it is difficult to restore the plant health. The client requested the application to make them alive as long as possible.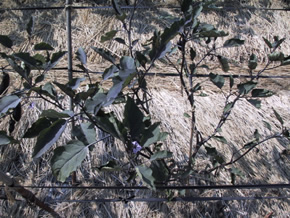 July 6
I think that they are being recovered as the leaves seem active.
"I will wait and see the situation for a while and supply MR-X again 10 days after." (The farmer) "I have never seen such an event. Typically, plants are getting decayed without any recovery." (Acquaintance of the farmer)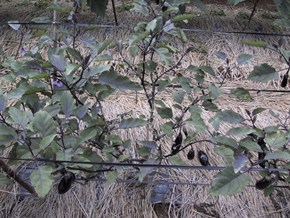 July 14
The leaves in the right half of the plant have changed in comparison with those on July 3 and 6.
The egg plants have been shaped better. Those wilted leaves are no longer seen. They seem to have been recovered. You cannot expect such a thing normally. (Comment by the farmer)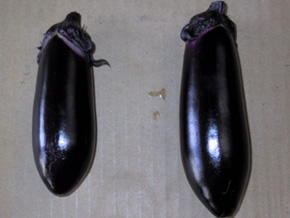 June 28
Now I can harvest heavy egg plants with large leaves.
Although these egg plants are of M size, they are as heavy as those of L size. You can see that easily when comparing with the plants in other places.
"They are good heavy egg plants."
Left = Not used, Right = MR-X used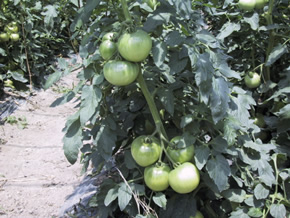 July 13
The plants seem somewhat weary after planting on April 20.
When I supplied MR-X500 to recover the plant health, they quickly became healthy and provided large flowers and large crops.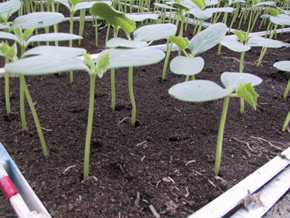 June 17
As the climate became colder just after planting of cucumbers this year, their growth are not satisfactory in general. However, the plants dipped in MR-X are very healthy.
You will see how their growth is good when comparing with those not given any MR-X.
Besides, I sprayed MR-X to the seeding of cucumber because they are not healthy.
Then, they started grow in good state.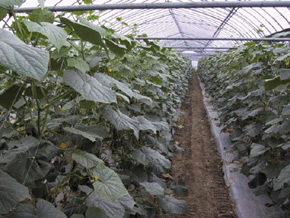 August 9, 2:35 pm
Spray MR-X300 to leaves in greenhouse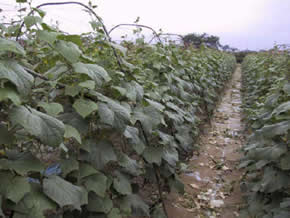 August 9, 2:36 pm
Spray MR-X to leaves on ground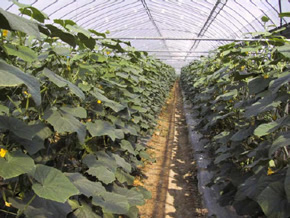 August 12, 8:40 am
3 days after spraying to leaves. Trees have become active.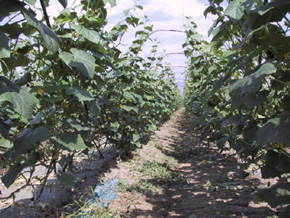 August 12, 8:41 am
3 days after spraying to leaves. Cores also have started stretching.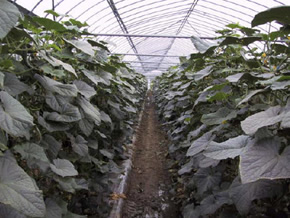 September 5, 12:52 am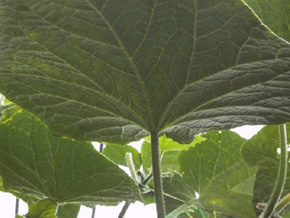 September 5, 12:48 am
The vigorous growth keeps insects away.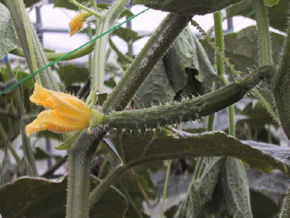 September 5, 1:28 pm
The bur is so sharp that it causes pain on hands during packaging.